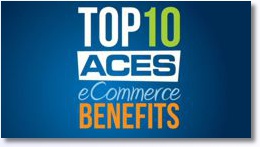 American has a fully interactive proprietary Internet eStore system called ACES. This e-business solution integrates everyday business functions such as product eStores, order placement, electronic proofing, administrative order authorization, warehouse fulfillment and inventory management. American has a lot of flexibility when it comes to on-line eStores. Users have the ability to go on-line to order everything from business documents, customized corporate apparel, and promotional products to office/industrial supplies, and corporate stationery. On-line auctions are also available to raise money for scholarships, research, United Way, charitable donations, people in need, etc.

American's ACES program is not an "off the shelf" program with limiting features. American has invested millions of dollars in technology to provide this fully interactive proprietary system to hundreds of customers. Our strength is our flexibility to build a system that meets your needs.

© 2014 American Solutions for Business.All rights reserved.

Learn More about Aces

Ph: (765) 288-8988

email: rchurch@americanbus.com

Muncie, Indiana